StormTread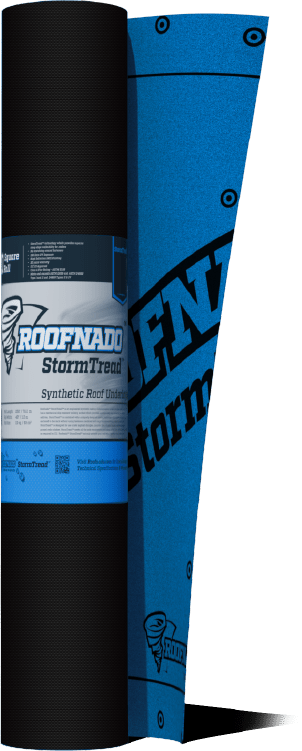 Whether youre roofing projects are new construction or re-roofing, If you're serious about quality, StormTread is the ultimate synthetic underlayment for use under all tiles. Youll nod at how good it feels to walk on. Youll admire how durable it feels. And youll love that it wont burn a hole in your pocket.

One of the key features of StormTread is our micro-etched surface technology. It provides excellent slip-resistant properties and the superior steep-slope walkability that roofers regard as best in class.

StormTread is designed for use under tiles but it can also be used under asphalt shingles, all metal panels, synthetic shingles and primed cedar shakes. StormTread meets and exceeds all code requirements including: ASTM D226, ASTM D4869 and AC 188 as required by ICC.

StormTread not only protects roof decks, it helps to protect Roofers as well. Ask for it at your nearest roofing distributor today.
Features & Benefits:
Hover over images to learn more

FASTER
No stretching around fasteners and no blow-offs!
All temp. all weather performance; remains flexible and easy to install in freezing or extremely hot conditions
Limited Lifetime Warranty

SAFER
ICC ES Approved
FBC Approved
Class A Fire Rating - ASTM E108
Meets ASTM D226 Type I and II and ASTM D4869 Types II & IV

STRONGER
Texas Department of Insurance Approved
180 Days UV Exposure
High Definition (HD) Printing
Meets the performance requirements of CAN/CSA A220.1


Steep slope confidence
StormTread combines Nexgen mechanical and chemical slip resistant technologies for unmatched walkability you can trust everytime.

No more felt blow-offs!
StormTread is up to 13x stronger than felt! StormTread stays secured to the deck in all weather conditions and will not tear around fasteners.
Quicker, smoother, more coverage
StormTread is wider, longer and has fewer laps then felt. It lays flat and will not wrinkle or distort when wet. Provides up to 450% more coverage.

Fewer trips up the ladder
A 5,000 sq. ft. roof requires as few as 5 rolls of StormTread vs. 24 rolls of #30 felt.
More Information
---
TEST/STANDARD*
Tensile Strength ASTM D5034
Tear Strength ASTM D4533
Liquid Water Transmission ASTM D4869
Fire Rating ASTM E108
UV Exposure
Temperature Range
Limited Warranty
ANCHORDECK TYPICAL VALUE
MD 95 lbs (43 kg) | CD 85 lbs (38.5 kg)
MD 18 lbs (8.16 kg) | CD 16 lbs (7.26 kg)
Pass
Class A
3 Months
-40 F to 212 F
20 year
Length per roll: 250 / 76.2 m
Width per roll: 48 / 1.2 m
Weight per roll: 39 lbs / 17.7 kg
Roll size: 10 sq / 93 m2
Rolls per pallet/truck: 25 / 900
Pallet weight: 1,028 lbs / 466.3 kg