Quarrix
Multi Roll Ridge Roll

|

most versatile ridge vent
Not all ridge vents can be installed under any material. Our ridge vent is the most compatible and fits underneath the most types of roofing materials; including asphalt shingles, cedar shakes, flat tiles, metal and stone-coated steel. Easily add on-roof intake to homes with no soffit vents or plugged soffit vents. With just one cut add a slot in the roof deck and install it anywhere on the lower 1/3rd of the roof.
Contact Us
Benefits
Best Curb Appeal with Invisible Profile
Our low-profile multi-purpose ridge vent creates an almost invisible appearance from the ground. No more awkwardly placed vents or mixed ventilation. Multi Roll creates a clean and neat roof line for a beautiful roof and greater curb appeal than other roof ventilation products.
Combats Weather with StormStop
StormStop membrane stops wind driven rain, snow and sleet. This patented filter shields your attic from weather, while still allowing air to flow freely. Because of the unique material and design of StormStop water is repelled and cannot penetrate. It works on stopping pests and bugs from entering the attic, too.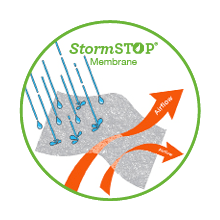 Product Specs
Compatible with asphalt shingles, cedar shakes, flat tile, metal and stone-coated steel

Made from durable HDPE plastic

Pitches from 3/12 to 20/12

6.35" NFA

5/8" thick

Widths: 8 1/4"

20 ft. Rolls

Part # 61071

Covered by US Patents 6450882, 6623354, 6913530
Download The Multi Roll Spec Sheet