Quarrix
Rigid Ridge Roll

|

most durable ridge vent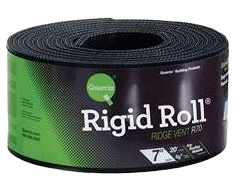 Quarrix Rigid Roll and Rigid Section ridge vent is the most durable and versatile attic ventilation product on the market. Made of crush-resistant HDPE for unbeatable durability and works with a wide variety of roofing materials. Weather is no-challenge for Quarrix ridge vents. The Rigid Roll and Rigid Section include the patented StormStop Membrane that allows air to flow while preventing all forms of weather from entering the attic space.
Contact Us
Benefits
Best Curb Appeal with Invisible Profile
Our low-profile ridge vent creates an almost invisible appearance from the ground. Rigid Roll and Rigid Section have the most invisible profile creating a clean and neat roof line for a beautiful roof and greater curb appeal than other roof ventilation products.
Combats Weather with StormStop
StormStop membrane stops wind driven rain, snow and sleet. This patented filter shields your attic from weather, while still allowing air to flow freely. Because of the unique material and design of StormStop water is repelled and cannot penetrate. It works on stopping pests and bugs from entering the attic, too.
Product Specs
20' Rigid Roll
Compatible with asphalt shingles, cedar shakes, flat tile, metal and stone-coated steel

Made from durable HDPE plastic

Pitches from 3/12 to 20/12

12.7" NFA

5/8" low profile

Widths: 7", 9", 11 1/4"

20 ft. Rolls

Part # 58786, 58785, 58784 without coil nails

Part # 39914 with coil nails

Covered by US Patents 6450882, 6623354, 6913530 and Canadian Patent 2355878
4' Rigid Section
Compatible with asphalt shingles, cedar shakes, flat tile, metal and stone-coated steel

Made from durable HDPE plastic

Pitches from 3/12 to 20/12

12.7" to 19" NFA (varies)

5/8" low profile< 1" high profile

Widths: 7", 9", 11 1/4"

4 ft. Sections/h4>

Part # 59089, 59091, 62407, 59092, 62406 without coil nails/h4>

Part # 39915 with coil nails

Covered by US Patents 6450882, 6623354, 6913530 and Canadian Patent 2355878
Download Our Spec Sheets